F3 launched in Monterey on August 29, 2017. Today, we have 3 weekly workouts in Monterey and Carmel.
What is F3 Monterey?
Simply put, F3 Monterey is a group of guys / dads who run free outdoor men only workouts all over the Monterey Peninsula.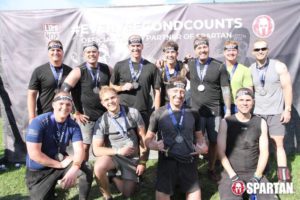 Think of it like Crossfit in the Park, without egos, or paying $200 a month, or being embarrassed if you can't lift 200 pounds over your head. Also, we find that the guys that show up and workout end up wanting to grab a coffee or a beer together and do fun stuff like mud runs.
We also like to give back to our community via things like: volunteering at veterans centers, canned food drives for a local community food bank, and clothing donations to local shelters, etc.
A few guys started F3 Monterey running one boot-camp at one park once a week and we now have 3 workouts a week around the peninsula.
How do I Start?
First, look at our workouts and find a day/time that work for you however we like to recommend Saturdays for your first workout. If you still have questions and want to talk with someone click HERE.
Workouts are rain or shine. Rain makes it even more fun!
What's the Catch?
There really is no catch. The guys that run this group are just like you.
What we all get out of this is – we get in shape, we meet new friends, and we do good in our community. That is really it.
All you have to do is show up. If you are a little hesitant, we get that. We've heard it sounds like there's a catch; there isn't!
Don't worry or hesitate, give us an hour for a free workout to see for yourself. We really do want to give this away AND also know you can do this. (Yes, you.)
Still a little hesitant, we get that. There is no fitness shaming and all fitness levels are supported. We encourage everyone!
As we like to say: "hope to see you in the gloom!"
…and if you are traveling throughout the country, there are thousands of workouts per week in F3 Nation.